30 Rock Quotes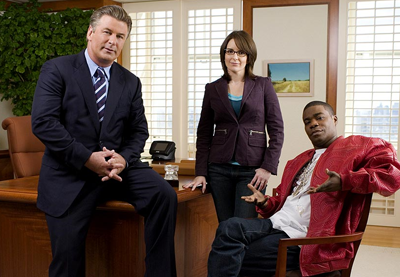 Liz: Whoa, excuse me, there's a line, buddy.
Man: There's two lines.
Liz: No. No, there's one line; we're in it.
Man: I'm just getting a hot dog.
Liz: We're all getting hot dogs! What, you think there's two lines and we're all in this line?
You're the only genius who got in the other line? Can you believe this guy?
Liz: Where's Gary?
Jack: Gary's dead. I'm Jack Donaghy. New VP of development for NBC/GE/Universal/Kmart.
Pete: Oh, We own Kmart now?
Jack: No. Why are you dressed like we do?
Affirmative action was designed to keep women and minorities in competition with each other to distract us while white dudes inject AIDS into our chicken nuggets.

♥ Quote By: Tracy Jordan
Liz: I'm not like these girls, Tracy. I don't have sex for money!
Stripper: Neither do we!
Tracy: Neither do they! [mouthing silently] Yes they do!
Jack: Alfredo. 2 p.m.
Liz: I'm not dressed for that.
Jack: You're dressed for Burger King. Should we make it Burger King?
You know how pissed off I was when US Weekly said that I was on crack?
That's racist! I'm not on crack. I'm straight-up mentally ill!

♥ Quote By: Tracy Jordan
I like you. You have the boldness of a much younger woman.

♥ Quote By: Jack to Liz
Toofer: He's an imbecile.
Pete: Well, he's our imbecile now.
Studio 6H is where we do The Girlie Show.
Did you all see Tracy Jordan make a special appearance the other night?
Wasn't that exciting!? That is what we in the show business like to call a cameo.

♥ Quote By: Kenneth
Liz: We gotta do something.
Tracy: Let's crash my car to see if the airbags go off.
Liz: Let me explain what I'm talking about first!
Tracy: So, how you doing over there, Theo Huxtable.
Toofer: I'm doing good.
Tracy: Nah-uh. Superman does good; you're doing well. You need to study your grammar, son.
Frank: [to Toofer] Wow, that was embarrassing for you.
Liz: How you doin'?
Jenna: There is no way that I am working with that guy.
Do you know that he once got arrested for walking naked through LaGuardia?
Liz: Yeah.
Jenna: And that he once fell asleep on Ted Danson's roof?
Liz: Yeah, Tracy has mental health issues.
Jenna: He bit Dakota Fanning on the face.
Liz: When you hear his version, she was kinda askin' for it.
Kenneth: Excuse me, Ms. Lemon, but, you're on the monitors right now, so...
Liz: Everyone in the building can see and hear me...
Kenneth: Yes.

Liz: Mr. Donaghy, I sincerely apologize; I'm so embarrassed.
Jack: Well, I guess you must be embarrassed if you're hiding in the storage closet.
Liz: This is my office.
Jack: Are you familiar with the Japanese art of Reiki?
Liz: No.
Jack: It is the laying on of hands in order to improve one's life.
Liz: How does your life improve? Do the hands have money in them?
Liz: Why does he always assume we're lesbians?
Gretchen: I am a lesbian.
Liz: What made you think I was gay?
Jack: Your shoes.
Liz: Well, I'm straight.
Jack: Those shoes are definitely bi-curious.
Jack: Poker night? How many play?
Liz: Oh, you're not going to come to our crappy poker night, are you?
Jack: No, I'm not going to come.
Liz: [relieved] Good!
Jack: I bluffed. I am coming.
You are a puzzle, Kenneth Ellen, and I'm going to solve you. Yes I am.

♥ Quote By: Jack
Liz: I can't believe you bet your wedding ring.
Pete: I know. Weird thing is... I had money left.
Liz: Kenneth, why did you bet that terrible hand?
Kenneth: Why? Because I believe life is for the living.
I believe in taking risks and biting off more than you can chew.
And also, people were yelling and I got confused about the rules.
Liz: What do guys like?
Frank: Porn.
Liz: No, I mean if you were to go on a date with a girl, how would you want her to act?
Frank: Like she was in a porn.
Liz: That's it. I gotta talk to her about her clothes, she can't dress like that.
Pete: Well, yes, she can! People like the way she dresses!
Liz: Oh, c'mon. It's distracting, it's inappropriate.
Pete: You're inappropriate, you jerk, with your big stupid face!
Liz: Okay, this is gonna sound really weird. But, um, you need to wear a bra.
Cerie: Oh, no. I... I don't actually. They kinda just stay up on their own.
Pete: Oh my god! Wha... what are you wearing?!
Frank: You're making me gay.
Liz: It's a joke, obviously. I'm wearing this as a joke.
Bunch of comedy writers don't know a joke, jeez. [goes to her office]
Frank: I just threw up in my mouth.
Liz: I said it's a joke!
Jenna: Oh, I'm not worried because I have something the other actors don't.
Liz: Don't say your sexuality.
Jenna: My sexuality.
Liz: Oh, god, Jenna! When has that ever worked?
Jenna: When has it not worked?
Jenna: Yeah, but this is different because I know Jack Donaghy. I know what he likes.
Liz: Yeah. So now you just have to make yourself 10 years younger and Asian.
Liz: Oh you should do it. It will be hilarious.
Jack: Well, that will be a refreshing change of pace for the show, won't it?
Jack: Lemon, I need your help.
Liz: Really, Jack Donaghy needs my...
Jack: Don't gloat, it makes you seem man-ish.
Liz: Okay, very funny.
You bought a pager from Dennis. Will you take it off now, please?
Jack: Oh, I can't. I'm expecting a call from 1983.
Jack: That's a sharp tie you've got there, Dennis.
Dennis: That douchebag up front made me wear it.
Jack: Does he know you're the Beeper King?
Dennis: I don't think so.
Jenna: You're back with Dennis?
Liz: I'm back with Dennis... don't look at me with your eyebrows all up, it's so annoying.
Jenna: Oh, yes, I'm annoying. Not the man who honked your boobs on the Jumbo Screen.
Liz: That was before, and it was the playoffs.
Liz: Why is there hair everywhere? Did you shave in the kitchen?
Dennis: The water in here is softer.
Jack: I don't do these things just to drive you crazy, Lemon. I do them for the good of the show.
Liz: Well, I'm the one who always has to clean up the mess afterwards.
Jack: That's why my job is way better than yours.
Liz: Why are you wearing a tux?
Jack: It's after six. What am I, a farmer?
Jack: That's why I only date 20 year olds.
Dennis: Let me tell you about 20 year olds, half of them are 16.
Jack Donaghy is gonna kill me...
& then he's gonna kill you and then he's gonna fold us up in a pizza and eat us.

♥ Quote By: Liz Lemon
Cerie: Guess what, everyone? I'm engaged!
Frank: Hey, this isn't going to change the way you dress or eat lollipops, is it?
Cerie: No.
Frank: Oh, then, congratulations.
Liz: What's going on, business got ya down?
Jack: Business doesn't get me down, business gets me off.
Girl: Your name sounds Jewish. You must be important.
Bianca: Congratulations John,
she's much sharper than the other girl you had ... what was her name?
Jack: Beyonce.
Jack: I had "lunch" with Martha Stewart and "dinner" with her daughter Alexis.
Liz: Gross.
Jenna: Gerhardt, would you like to dance?
Gerhardt: Sadly because my body does not produce joint fluid, I cannot.
Angie: You tell G.E. Light-Bulb-Man I want Sophie's Choice out of my suite!
[ON THE PHONE] Hi, my name is Liz Lemon and I received flowers from your shop tonight and I can't tell who they're from. No, no, I did read the card but it's not signed.... no, I'm not with so many men that it's impossible for me to guess... well, that is just... oh, well you know what, I found the card, actually, they're from your mom, so tell your gay mom I said thanks!

♥ Quote By: Liz Lemon
Dot Com: Yo, Kenneth, we need to talk now.
Kenneth: Oh, I've had this conversation before. You're marrying my mom, aren't you?
Why do you sound surprised? I love America. Just because I think gay dudes should be allowed to adopt kids and we should all have hybrid cars doesn't mean I don't love America.

♥ Quote By: Liz Lemon
Liz: Why did you tell the reporter that you hate the troops?
Jenna: What? I didn't say I hate the troops.
Liz: You can't solve all your problems by shooting someone or setting a stranger on fire.
Jack: Don't be ridiculous.
Ridikolus: I am Ridikolus.
Ridikolus: Aww man you didn't just skuff these shoes. P Diddy wears these shoes.
Kenneth: Oh, will he be mad when you give them back?
Tracy: Who else is going to be at that party?
Jack: Well, you're going to be sharing the stage with NAS...
Tracy: Nope, he hates me! We used to date the same girl.
Jack: What about Young Jeezy?
Tracy: Forget about it. I called his pit bull gay on 106th and Park. Liz: That would do it.
Ridikolus: What's your game?
Kenneth: Boggle.
Jenna: Steven played the race card. What did you do?
Liz: What could I do? I picked up the check and made out with him a little bit in the taxi.
Tracy: So what's your religion, Liz Lemon?
Liz: I pretty much just do whatever Oprah tells me to.
Jack: Good God. Devon is gay. He's even more powerful than I thought.
Liz: Maybe you should seduce him and get him to tell you all his secret plans.
Liz: His name's Floyd.
Jack: That's unfortunate.