Rush Hour 2 Quotes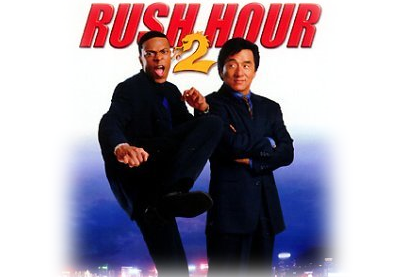 [After Carter throws Lee's CD out the window]
That was my CD! Don't you ever touch a Chinese man's CD!

♥ Quote By: Chief Inspector Lee
[To Carter] I will bitch-slap you back to Africa.

♥ Quote By: Chief Inspector Lee
[To Carter after he witnesses Lee and Isabella Molina kissing] Yeah, I'm a player.

♥ Quote By: Chief Inspector Lee
[After Carter seemingly dies in an explosion] All he wanted was some Mushu.

♥ Quote By: Chief Inspector Lee
[To Carter after a truck passes over them]
I can't believe I flew ten-thousand miles for this shit!! AHHHHHHH!

♥ Quote By: Chief Inspector Lee
[In bloopers] You sorry, you waste our film!

♥ Quote By: Chief Inspector Lee
[In Cantonese] Sorry, my friend is drunken and gone mad.

♥ Quote By: Chief Inspector Lee
(Bloopers) "Damn, he aint gonna be in Rush Hour 3!"

♥ Quote By: Detective James Carter
That's Ricky Tan? That's a midget in a bath robe.

♥ Quote By: Detective James Carter
I can't believe I flew ten-thousand miles for this shit!!

♥ Quote By: Detective James Carter
[To Ricky Tan] No, I'm Lee's new muscle.
And don't let this robe fool you, this is the only color they had left.

♥ Quote By: Detective James Carter
Ooh, you know he DEAD!

♥ Quote By: Detective James Carter
Don't be messing with me, Lee. I will kick your ass.
I'll hit you so hard you'll end up in the Ming Dynasty.
I mean it man, I'll bitch slap you back to Bangkok!

♥ Quote By: Detective James Carter
[Seeing a Chinese thug naked] No wonder you mad!

♥ Quote By: Detective James Carter
What's wrong with you woman!?

♥ Quote By: Detective James Carter
Who put their hand on my butt? Do it again.

♥ Quote By: Detective James Carter
I have never hit a woman in my life but yo ass is pushing it!

♥ Quote By: Detective James Carter
Lady that was unnecessary!

♥ Quote By: Detective James Carter
[Looking at Isabella getting undressed through a telescope]
Lord, have mercy! Black panties, black bra. Victoria's Secret, spring catalog, page 27. Girl got class...

♥ Quote By: Detective James Carter
Man what's wrong with you? You don't jump in front of a black man at a buffet line!

♥ Quote By: Detective James Carter
I saw that. I saw that. She kissed you didn't she?
You sly devil, you. And you didn't look back. I like that. Playing it cool.

♥ Quote By: Detective James Carter
We could have been a good couple,
We could have had something special, but you're one crazy-ass bitch!

♥ Quote By: Detective James Carter
I have a dream! That one day black people, white people...
And even Chinese people can all gamble together without getting different chips!

♥ Quote By: Detective James Carter
Wait a minute....In the spirit of brotherhood, let's just play some craps.

♥ Quote By: Detective James Carter
Kenny, you embarrassing yourself. You a black man, with a Chinese restaurant, on Crenshaw.

♥ Quote By: Detective James Carter
I hate that fortune cookie shit.

♥ Quote By: Ricky Tan
(To Carter) You Americans are so funny.

♥ Quote By: Ricky Tan
(To Lee) The problem with partners is, they die. As will you.

♥ Quote By: Ricky Tan
(In Chinese) I want to slice those pretty lips right off her face.
Bury her in the desert with those two cops.

♥ Quote By: Hu Li
The great Chief Inspector Lee. I'll be remembered for getting rid of you.

♥ Quote By: Hu Li
(Lee has a bomb in his mouth)
When I'm done with you, you'll beg me to push this button.

♥ Quote By: Hu Li
If I push this detonator, I'll blow 32 teeth into your brain.

♥ Quote By: Hu Li
I'd put that knife away bitch, before you have an accident.

♥ Quote By: Isabella Molina
Lee: Just try to blend in.
Carter: What do you mean, "blend in"? I'm two feet taller than everybody in here!
Lee: You are a civilian. In Hong Kong, I am Michael Jackson and you are Toto.
Carter: You mean Tito! Toto is what we ate last night for dinner, now gimme that badge!
Lee: I'm sorry.
Carter: You sorry?
I got somebody's old chopsticks stuck up my ass, & all you got to say to me is you sorry?

♥ Quote By:
Carter: Now why'd you go and say it was a bomb?
Lee: I didn't, you did.
Carter: No I didn't!
Lee: Yes, you did!
Carter: I said she was da bomb.
Lee: She was the bomb?
Carter: All right Lee.... tell me how they gonna kill us?
Lee: First they will torture us for three days-
Carter: I can handle that!
Lee: Then they will cut off our egg rolls.
Carter: Cut off our egg rolls?! Aw hell no! Don't give up!
Carter: Why the HELL didn't you tell me you had a bomb in your mouth?!
Lee: I did!
Carter: No! You didn't!
Lee: I said, "Mmm!"
Carter: What the hell is "Mmm"?
Lee: Mmm, boom!
Carter: Damn! Good kick, Lee.
Lee: It was an accident.
Carter: Aw, well, we'll just say he tried to catch a cab.